After an interruption of sixteen years, a year ago I resumed scratching on film, a technique that had been at the center of my work for so many years from the mid seventies on. I did not want to simply carry on doing the samething I was doing before I stopped, so I decided for an evolving process in order to frame ina new way my return to this technique.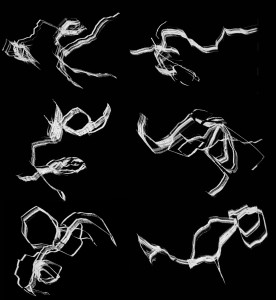 May-June 2016 : series of thirty gif's posted on my Facebook page.
July 2016 : Scratch, triptych 3, a ten minutes film made from the thirty gif's with a music by Malcolm Goldstein.
November 2016 : signal film for the Summits of Animation Cinema 2016.

January 12 to February 11 2017 : the video installation Scratch-1 at the Clark Center in the Hors-Pages exhibition curated by the HB magazine, devoted to drawing.
April 6 2017 : the Scratch performance with musicians Malcolm Goldstein (violin) and John Heward (drums) in the Norman McLaren hall of Cinémathèque québécoise.

April 28 avril to June 4 2017 : the video installation Scratch-2, polyphony of fliskers, with musical fragments by Malcolm Goldstein and John Heward.

Songle channel version of the video installation Scratch-2
13 and 14 November 2017, during the Electro Acoustic Winds Symposium art University of Aveiro in Portugal, public rehearsal and performance Scratch with Lori Freedman.