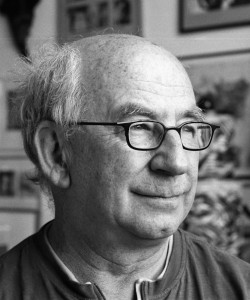 Pierre Hébert, recipient of the Albert-Tessier Quebec government award for cinema in 2004 and of the Cinema Career Grant of the Art Council of Quebec in 21012, has been pursuing for 50 years his career as filmmaker, performer and visual artist. Self taugh, strongly influenced by animation film makers Norman McLaren and Len Lye, he directed his first films independently while he was still studying Anthropology at the University of Montreal. He worked at The National Film Board of Canada from 1965 until the end of 1999. Since then he continued as an independant artist and filmmaker. From 1996 to 1999, he was producer and director of the Animation/Youth studio of the French program of the NFB. He was first known for his abstract experimental films dealing with perception phenomena ( Op hop, Opus 3, Around perception,Fundamentals of genetics ). Later, although he always kept an experimental approach, his films became more socially and politically involved (Entre chiens et loup, Memories of war). Later, his work grew out of interdisciplinary projects ( Etienne et sara, Songs and dances of the inanimate world-the metro, O Picasso-tableaux d'une surexposition, Adieu bipèdes, La Lettre d'amour ). From 1983, he started to take part in live performances with musicians (Jean Derome, Robert M. Lepage and René Lussier, Fred Frith and Bob Ostertag) and choreographers (Ginette Laurin, Rosalind Newman, Louise Bédard and Jean-Marc Matos) and most of his films of that period evolved from those multidisciplinary practices. He is now working on the «Places and Monuments» project in which he reassess his long time interest in the realtionship between aniamtion and live action shooting.His last work is a video installation (Berlin – The Passage of Time, Places and Monuments-6) of which there is also a web version (lieuxetmonuments.net)
Right from his first film in 1962, Pierre Hébert has been experimenting with the animation technique of engraving images directly on 16mm or 35mm processed black film. In the eighties, he has developped a new type of performance involving "live" animation scratched directly on a film loop while it is rolling in a projector, usually associated with improvised music and occasionnally with dance. He was invited to perform in several New Music or Jazz festivals around the world. He is currently expanding this live animation practice with the use of computers in theLiving Cinema project along with composer Bob Ostertag.
In 1991, he started to work on is first animated feature film (La Plante humaine) based on the images improvised during the live performances of the recent years. This film was completed in 1996, released in Montreal and in Paris.
From 1993 to 1995, he was president of La Cinémathèque québecoise, a film archive based in Montréal. He has also been teaching animation in various universities and writing for cinema and art magazines. In 1999, he published an essay, L'Ange et l'automate, about his work, animation and other related subjects and, in 2006, Corps, langage, technologie, a collection of articles written from 1985 to 2004. In August 2010, he was granted an honorary professorship by the Emily Carr University of Art and Design in Vancouver. Since 2011, he is memeber of the board of the artist run video center Videographe, in Montreal.
Awards and important grants
2012- Cinema Career grant (100000$) given by CALQ (Art Council of Quebec) for pursuing the «Places and Monuments» project
2011- Production grant by CALQ (Art Council of Quebec) for the film «Place Carnot-Lyon» (Places and Monuments-2)
2005- Production grant by the Canada Council for the Arts for the film «Herqueville».
2004- Albert Tessier award (Quebec Goverment award for cinema) for life time achievement
2004- Conseil des arts et des lettres du Québec award for Between Science and Garbage.
1997- AQCC/SODEC award for the best Quebec feature in 1996 for La Plante humaine.
1997- Office des communications sociales cinema award for La Plante humaine.
1993- AQEC/Olivieri award for the best theoritical writing on cinema.
1988- First recipient of the Norman McLaren Heritage Award for life time achievement
1987- Bessy Award (NewYork Dance and Performance Award) for the films in the dance show The Technology of Tears.
1986- Melkweg Cinema Award for Reality Research (décerné par le Melkweg Cinema in Amsterdam) for life time achievement.
1985- Best Quebec short film Award given by l'Association québécoise des critiques.de cinéma to Songs and Dances of the unanimated world-the subway.
Here is a complete curriculum vitae.
Here is a short biography.