Notes for the musician, structure of the performance
Short text introducing the performance:
The Scratch performance is one of the many elements that made up my return to the technique of engraving animation directly on film, after a void of 15 years. Up until the early 2000, this technique had been the central part of most of my films. From 1987, I also started to present live scratched animation performances that helped me develop new ways to cooperate with other artists, particularly musicians, and a different type of relationship with audiences.
The combination of performance and film work proved extremely fruitful but it was totally transformed when I switched to the digital that made me abandon my scratching practice. I recently felt the need to return to my old tools but I wanted it to be different than what I was doing before. Thus a two years process that included production of gif's, films, video installations and performances in order to renew my approach.
My new performance setup uses two 16mm projectors projecting on the same surface and loaded with two loops of black film of slightly different lengths. The projectors are running non stop and I scratch alternately on the two loops, adding bits of animation on each of them as the performance develops from an almost black screen to an intense and complex flow of images. What the audience sees is the ever changing combination of the two loops, due to the difference of length. The process could last several months without repeating itself, but the performance stops after 45 minutes.
Technical needs:
(this is for the image only, it does not include the musicians needs that can vary)
2 16 mm projectors, 2 tables (min. 75 cm x 150 cm), four chairs.
The two projectors project on the same screen.
The projectors have to be set in the center of the room facing the screen and I have to be able to move freely between the two projectors. This may cause problems and require special arrangements in theaters that are equipped with fixed seats.
2 assistants (one assistant for each projector). The function of the assistant is to make sure the film runs smoothly without making knots or breaking up.
power inlets
---
COMPLETE FILE ABOUT THE LOUVRE PERFORMANCE
It includes the preparatory exercices, a video capture of the performance and a work in progress resulting from the perfomance.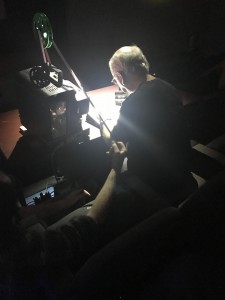 On December 20 2018, at the Tokyo University for the arts, a two projectors performance with Yuichi Matsumoto. This performance capture is quite explicit concerning the technical setup needed for this two projectors performance.
March 28 2019, cinema Sao Jorge, Lisbon, Monstra festival, with Fernando Mota