scratched directly on 35mm film stock, completed on HD digital video, 2018. direction: Pierre Hébert, music: Malcolm Goldstein, 5:50
This film, part of the Scratch project, is a visual interpretation of a Malcolm Goldstein piece for solo violin based on a Bosnian popular song from Bosnia-Herzegovina. The composer describes it as a  gesture of hope for peace in that land ravaged by war during the 1990's.
direction and animation : Pierre Hébert
music : Malcolm Goldstein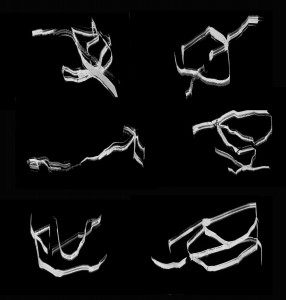 Festival and screenings : World premiere at the auditorium of Louvre Museum in Paris, October 14 2018; Animation Summits, Montreal, November 2018; Picolo Festival Animazione, Trieste, Dobia and Pordenone, Italy, Dec. 2018; Rotterdam International Film Festival, January 2019; Rendez-vous du cinéma québécois, Montreal, February 2019; 14th Athens Animfest, March 2019; Teheran International Animation Festival, March 2019; Annecy International Animation Festival, Off Limits competition, June 2019; Anca International Animation Festival, Slovakia, June 2019; Animator Animation Festival, Poznan, Poland, July 2019; Festival de cinéma de la ville de Québec, September 2019; Paris International Animation Festival, September  2019; Taichung International Animation Festival, Taiwan, October, 2019; KuanDu International Animation Festival, in Taipei, Taiwan, October 2019; February 2020, Animac, Spain; Fest Anca Festival in Slovakia, August 2020; Animaphix, Italy, July 2021.
Prizes : Special jury mention in the Best Canadian Film section, Animation Summits 2018, Cinémathèque québécoise, Montréal; finalist for the Iris prize in the animation cinema category, Québec Cinema, april 2019.
Metabolic Animation, notes on But one bird sang not by Pierre Hébert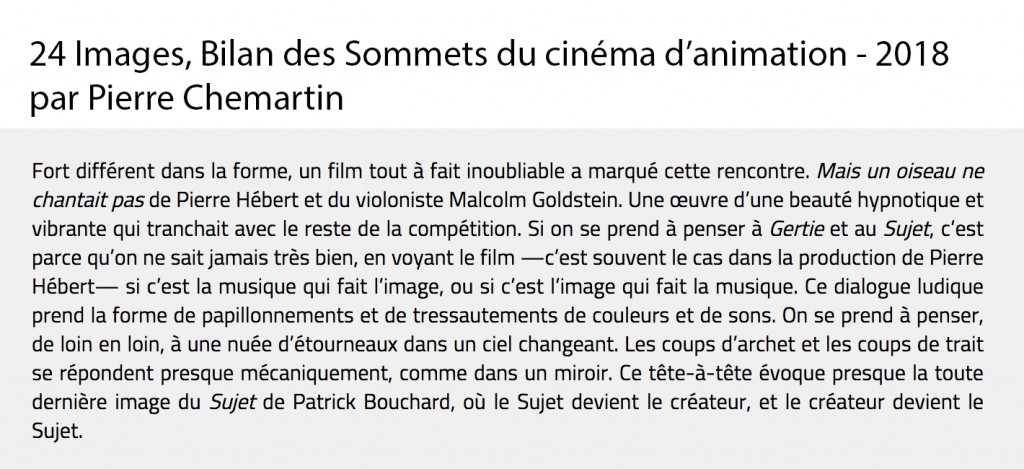 video extract: